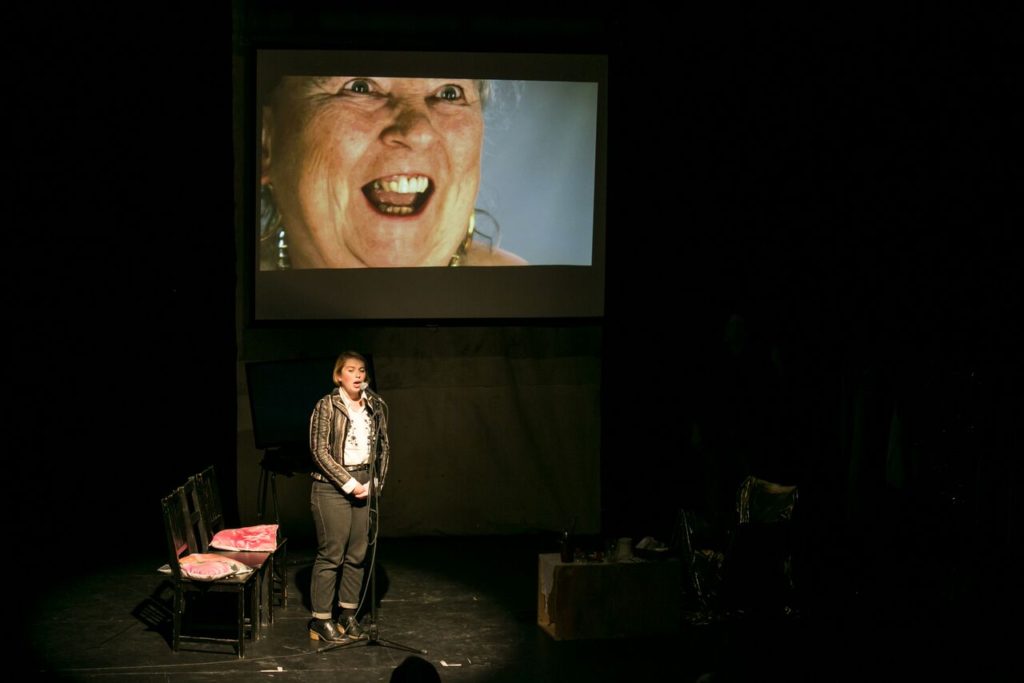 Interview with writer and director Emilia Teglia
Originally published by The New Current
Close Up is a new multi-media production about censorship in the post-truth era. This hilarious and poignant comedy tells the story of Clive, a 1960s Polari comedian, and eighty- year-old Grace, in art Gigi, overnight internet sensation and protagonist of a factual documentary about sex.
In 1968 the Theatre Acts abolished censorship of the theatre paving the way for freedom of speech across all media. Half a century later we are allowed to show and witness the unimaginable. But are we really free to assert our individuality? And if it isn't government law, what are the systems regulating speech in the post-truth era?
?Hey Emilia, thanks for talking to tNC, how is everything going?
It's a pleasure talking to you. We just concluded two intense weeks of research and experimentation on Close Up. We are at the very beginning of Odd Eyes' journey with this new production which departs radically from the style of our latest production #Haters. This is the most exciting stage of the creative process: we have very few constrains, loads of questions and many choices to make. 
Are you all set for your run at Pleasance Theatre later in the month?
We are ready to turn our questions to a creative audience happy to take part in the process with an open and inquisitive mind. We have an incredibly fearless cast, Tina Rath, Andrew Goddard and Leila Nashef, who has been completely involved in the creative process. Our visual designer, film maker Zeynep Dagli, will also be there to talk about the drive behind some of the aesthetic choices. I will be there to talk about the ideas of the play, script and character development, and to discuss ideas about the next stages of development.
What does it mean for you to being bringing Close Up to Litmus Fest?
Litmus Fest has offered us incredibly high standard of technical resources in a truly supportive environment. The festival is designed very well to support the creative process with the right balance of research time and focus towards the final showcases. The diversity of Litmus Fest programme is really impressive and definitely one of its highlights.
How important to you, and to new theatre in general, is a festival like this?
To echo David Loumgair in your previously published interview, festivals like this are invaluable for the survival of diversity in the theatre landscape in the current economic climate when small companies and, I would like to add, London-based companies, are really struggling. Luckily, organisations like the Pleasance recognise the need to nurture new theatre.
?Odd Eyes Theatre has been able to grow also thanks to support from New Diorama Theatre, Cardboard Citizens, Richmix, London Metropolitan University and our dedicated Board of Trustees.
Tell me a little bit about Close Up, what can we expect?
Close Up tells the story of 80-year-old Grace and her overnight rise to fame on the internet and on TV through a factual documentary. The audience will watch the initial forty minutes of the play in this early version of the script. They will get a flavour of the core ideas behind the piece, the characters and the staging. The design involves film and photography. The setting is colourful and there is a definite comedy flavour, but not all is laughter.
How did this show come about? 
Close Up was born from questions about the changing face of censorship in Britain. In 1968 the Theatre Acts abolished censorship on the British stage. It was one of several legislations that from then on supported freedom of speech and led to radical changes in the nation's cultural landscape. Fifty years on, political correctness and self-censorship are highly debated topics on the political and intellectual agendas. At the same time, much of what was previously "forbidden" appears to be glamourised and glorified through commercial channels. There seem to be huge ideological splits in society. Is current legislation protecting or limiting our freedom of expression? 
What was it about our new post-truth era that interested you so much?
The play looks at factual documentaries as prime example of post-truth communication. Many of these documentaries edit out information censoring part of the truth to present a glamourized version of reality that offers an emotional appeal. 
Do you think theatre should take more risks in the stories it tells?
I think there is some very risky theatre out there today. From big names like Lee Hall to experimental makers like Belarus Theatre, boldness is out there. But where are the audiences? Back in June I took my teenage daughter to watch Oliver Award winning showOur Ladies of Perpetual Succour. It was made for her. She felt represented, liberated, entertained. Shame she was the only teen amongst an audience with the average member being white, male and over 60. It was creepy and it's a bit disheartening. Funding cuts also affected drama teaching in school and schools' social outings to the theatre. Not a great outlook for risk-taking theatre with the niche audience of rich and privileged we are forming.
What has been the most challenging aspects of bringing this show to life?
Close Up is still in its embryo stages. The challenges so far included gearing the creative process towards something we could share. There is so much sieving and shaving off to do before we can really say that the show has been brought to life. At the same time, the process is at a good stage because of the commitment the whole team has already put into it.
How did Odd Eyes Theatre come about?
Odd Eyes Theatre was born from the work with a multi-cultural group of performers coming from different walks of life. We aim to use theatre to open communication between individuals coming from cultural and socio-economic groups. Our stories investigate reality from unusual angles to generate new perspectives.
What five words best describe your show?
Funny, dark, complex, inquisitive, uncensored
Do you have any advice you could offer any up and coming theatre makers?
Enjoy every minute of it. When the going gets tough, remind yourself how privileged you are to have any time at all to express your creativity.
And finally, what do you hope people will take away from Close Up?
We hope people will leave with a new outlook on the stories theatre can tell and with a new curiosity towards their fellow human beings in everyday life.
Image: Jennifer Evans