Close Up
Documentary maker Lauren wants to make it on the big networks. Ex-show girl Grace is ready to shoot to fame with the help of her late friend Kenneth Williams.
Conversations about showbiz, sex and ambition bring together two women four generations apart as they work on a fly on the wall documentary.
Odd Eyes' latest piece brings together elements of theatre and live filming, Polari language and music to create a multi-layered experience that will make you question your assumptions about how much freedom we are allowed.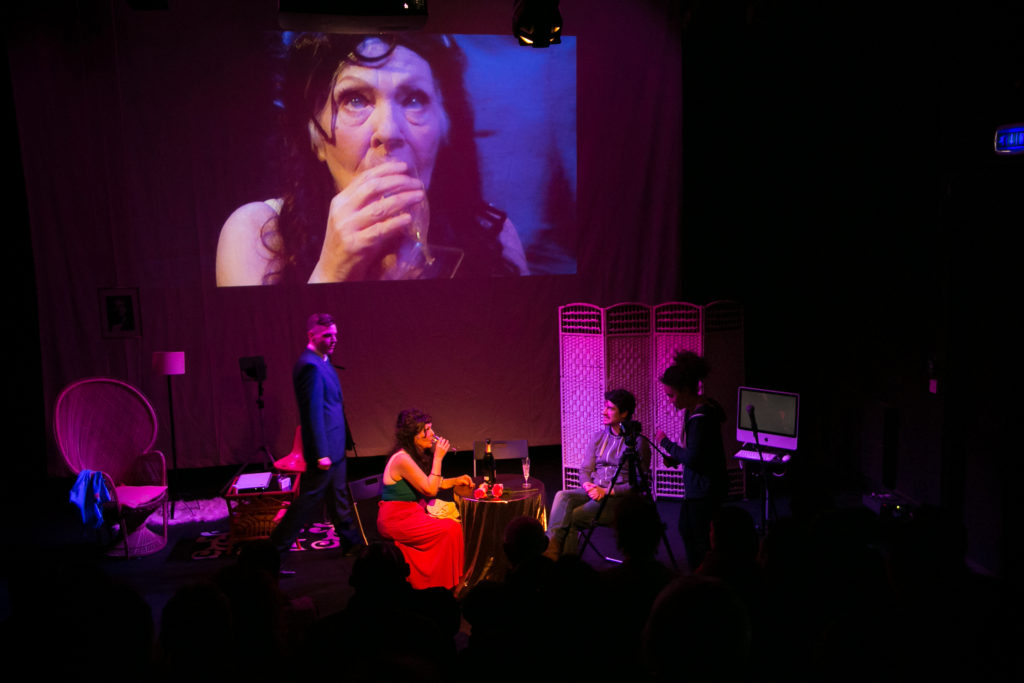 Audience and press reactions 
Close Up showcased at the Pleasance, New Diorama Theatre and Richmix. 
"Close Up throws up an intriguing and timely conversation on what it means to be in the media within the 21st century and whether some of the restraints on the entertainment industry, 50 years ago, could be of benefit today." The Spy in the Stalls, 19 February 2018
Full article: http://thespyinthestalls.com/2018/02/close-up-new-diorama-theatre/
"I liked particularly how it approached the subject of the Weinstein situation in Hollywood, and how the older star took it for granted and now it's all coming to an end. I thought it was very topical for the moment. So I thought it was very, very good. Even though is an R&D, very good." Stuart, audience member
"I thought it was a great show. Wonderful use of the media and integration within the show, I though that was really well done. Very topical as well, and I thought it was very nice because people of different ages can relate to it, more experienced theatre goers as well as young people like me. In particular I thought Sophie Jones performance was amazing, I could really connect to her. Let's hope it goes to the next level." Kate, audience member
"Personally I have never been interested in theatre and I have never seen any such show before today but as a first experience this was very positive. The story hooked me from the beginning, the character Grace was to die for. And I also liked the use of the live camera and the audience as an audience. It left me with the desire to know more. Congratulations. I'll come to see it again once you have developed it further." Alberto, audience member
"Excellent piece of engaging theatre. Clear message. Fun, sweet. Weird. Also a comment on age and generational difference. Very relevant to large part of audience." Anonymous, audience member
Cast and creatives
Written and directed by Emilia Teglia
Film design by Mark Morreaux
Light design by Sherry Coenen
Music composed and directed by Barbara Diana
Produced by Flora Herberich for Odd Eyes Theatre
With
Gilly Daniels
Sophie Delora Jones
Andrew Goddard
Large image by Jennifer Evans
Image 2 and 3 by David Sprecher

PRESS
Review "Thought-provoking, funny and moving"

Loitering in the Theatre
Interview with writer – director Emilia Teglia, The New Current
The making of Close Up on The New Current
Podcast: Close Up on Reel Rebels Radio
Interview with the creators of Close Up featuring special guest "Kenneth Williams" and songs from the show.