Emilia Teglia's journey from Big Issue vendor to founding a theatre company
Former vendor reflects on her journey from selling the magazine outside Old Street tube station to founding Odd Eyes Theatre, as it reaches its 10 year anniversary.
August 22, 2021
Does it sound melodramatic to say that drama can have an incredibly dramatic effect on a person's life?
Cardboard Citizens is an award-winning charity that makes theatre with and for people with lived experience of homelessness. This year it celebrates its 30th anniversary (as does another organisation addressing the big issue of homelessness: this magazine).
Emilia Teglia, 45, is just one person whose life was turned around by drama and The Big Issue. In 1999, she was a vendor in London. She had come from Rome, had become addicted to class-A drugs and was now homeless.
"I was really in a bad state", she says. "I spoke English but not a great amount. I wasn't eligible for any state benefits. I had addiction problems, no fixed abode problems. My view of the future was quite bleak. Luckily, there is something like The Big Issue."
Emilia sold magazines near the Barbican and in the underpass at Old Street tube station.
"I don't have great memories, because it was a very sad time of my life. I remember people just coming by and saying, 'chin up'. I also had really bad kidney problems. I remember needing an ambulance and not being able to get any help because people just thought you know, drug addict, deal with it.
"I don't want to say that all the memories of selling the magazine are bad. There are also memories of people being  incredibly kind. There's loads of very generous people and also very generous vendors."
A scheme run by The Big Issue paired vendors with a mentor and Emilia was matched with Sarah Templeton.
"We're still friends," Emilia says. "We were matched because I said that I had an interest in performing and she had run a theatre company. I was told about Cardboard Citizens. I had done some drama before but at that point in life, when I was selling The Big Issue, I had no other connections. For me, it was a lifeline to go back into a workshop space.
"Don't underestimate what fun and play can do because it really puts you in touch with your soul. Even though you've allegedly got a lot of time on your hands [being unemployed and homeless] I think that loads of people can see now, after 2020, that time on your hands doesn't equal freedom."
"Within that year through The Big Issue, I got medical help, went to a detox centre. I had a little bit of hope again."
Emilia Teglia, founder of Odd Eyes Theatre
The artistic director of Cardboard Citizens at the time – who only stepped down at the end of last month – was Adrian Jackson. He asked about Emilia's circumstances and told her that if she could deal with some of her problems he'd like to involve her in more projects. They set a date to meet again in a few months.
"That conversation changed my life," Emilia says. "I had something to look forward to. It gave me direction. Within that year through The Big Issue, I got medical help, went to a detox centre. I had a little bit of hope again.
"I started getting back on my feet – or rather finding my feet. I was very young. I didn't have an experience of everything being great and then a fall. The fall was part of my growing up.
"I started using drugs and left home very early. I went from being a great student at school and having lots of interests to gradually growing into a person who didn't have a direction.
"It was a long route out of it. But that appointment I had with Adrian, I was there. I managed to keep it. I was able to finally detox myself for good – 21 years now. No, 20. I'm not even counting now, which is better."
Emilia and the Cardboard Citizens company toured a show around hostels, performing for homeless people.
"The stories are often developed from the real experience of the participants. One of the characters that I had to play was The Big Issue vendor. And I remember one of the biggest challenges when I was working with the director of that particular play was that they wanted to dramatise it in a way I didn't feel comfortable with."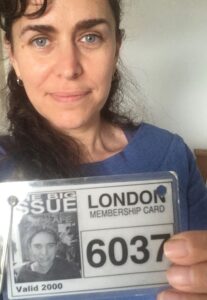 Emilia Teglia still has her badge from when she sold The Big Issue. Photo courtesy of: Emilia Teglia
"It was based on my experience of being bullied on my pitch by beggars. But the vendor in the story was basically allying with a police officer. And I was like, there's no way I would talk to a police officer.
"It was a great skill to learn, negotiating and getting out of that microculture that the street can become. It is us against them – and them is 95 per cent of the rest of the population.
"So, after that tour I didn't go back to selling The Big Issue – I had discovered the joy of working indoors!" she laughs.
Emilia explains how the transferable skills she developed through selling The Big Issue and acting at Cardboard Citizens helped her.
"I started working in a call centre. And that's where I realised how much I'd learned through selling The Big Issue because I was great at cold calling. When you're in the street, selling, that's the primary skill."
While working in the call centre, Emilia continued to participate in acting workshops. After having a child, she decided she wanted to continue working in socially relevant drama and so she went to university to study a theatre course.
"To be honest, it was like a breeze because of my experience with Cardboard Citizens," she says.
After coming out with a first-class degree, Emilia went on to do a Masters in Cultural History. Cardboard Citizens was the topic of her dissertation.
Her experience had also taught her how to fundraise and she soon founded her own theatre company. This year, Odd Eyes Theatre is celebrating its 10th anniversary.
"The aim is to open up communication amongst people that come from different backgrounds," Emilia explains. "We should open bridges between people who have diverse experiences and circulate ideas. That really enriched my life and I think that should enrich everybody's life experience."
For more information about Odd EyesTheatre and its upcoming production, On The Line, visit oddeyestheatre.net
Link to original article: https://www.bigissue.com/culture/theatre/emilia-teglias-journey-from-big-issue-vendor-to-founding-a-theatre-company/